Brisbane Ice Sales Processing Plant
| | |
| --- | --- |
| Client: | Brisbane Ice Sales |
| Location: | Hemmant ,Brisbane, Queensland |
| Scope overview: | Design and construct a major ice processing plant |
| Facility: | South East Queensland's largest ice processing plant |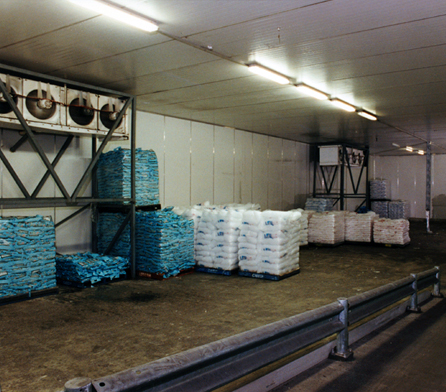 Project Description
Inspired plant design puts the freeze on high costs for Brisbane Ice Sales
OBJECTIVES
Brisbane Ice Sales approached Wiley to design and construct a major ice processing plant at Hemmant in Brisbane.
The new plant was to maximise throughput; meet stringent government health regulations; incorporate durable finishes; reduce costs of power consumption, labour and maintenance; and provide capacity to expand by 300 per cent to meet future demand.
CHALLENGES
Planning and staging construction of the new plant and relocation from the original plant
To minimise production downtime
Incorporating highly automated equipment and large tonnage throughput in the design to boost efficiency and reduce labour costs
Designing the facility to allow 300 per cent expansion in future
Meeting stringent government health regulations.
SOLUTIONS
Advice
Detailed planning of construction and relocation
Recommendations for efficient use of the site, including necessary road works.
Design
Close collaboration with the client to achieve design objectives
Design of the facility to achieve throughput of 300 tonnes of ice per day to meet health regulations
Inclusion of a bin room, a plant room with mezzanine floor above, external two-storey condenser platforms for gravity feed, an 860m2 ice store cold room, a bagging and load out area, and a dispatch office
Inclusion of highly automated state-of-the-art production equipment
Location of the new facility close to existing administration offices and relocation of storage building for maximum site efficiency.
Construction
Staged construction of the works and the relocation program to minimise production downtime and disruption
Completion of all road works, including road widening and construction of a concrete apron for the site.
RESULTS
The facility is the largest ice processing plant in South East Queensland at the time and produces more than 300 tonnes of ice per day by using highly automated state-of-the-art production equipment.
The innovative design layout maximises throughput and reduces labour costs by 33 per cent compared with the company's former facility.