Antoniou Pastry Facility Consolidation
| | |
| --- | --- |
| Client: | C & M Antoniou |
| Location: | Moorebank, New South Wales, Australia |
| Scope overview: | Design and build a new facility to consolidate separate operations and maximise business |
| Facility: | Fillo pastry manufacturing facility |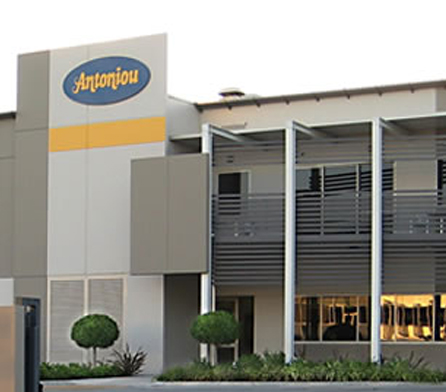 Project Description
Wiley bakes up a hot new fillo pastry facility for C & M Antoniou
CLIENT
C & M Antoniou is a privately owned Australian company established in 1960 and has grown to be Australia's leading manufacturer of fillo pastry and fillo pastry products.
C & M Antoniou manufactures for the Australian market and exports to New Zealand, South East Asia, Middle East and the UK.
OBJECTIVES
At the existing site, fillo pastry was manufactured in one factory while value added products were manufactured at a separate site.
Narrow streets, adjoining residential use and expanding production orders meant that these sites could no longer meet the growing needs of the business.
A new site at Moorebank, Sydney was chosen and Wiley was contracted to design and build a new facility that would consolidate and maximise the business currently separate operations.
CHALLENGES
Meeting the client brief to maximise site cover considering expensive land costs in Sydney
Design to provide best practice in bulk flour unloading and transfer considering combustibility, friction build-up and airborne flour.
SOLUTIONS
Advice
Concept design study to identify maximum site cover and utilisation to meet the client brief and stringent development standards in Liverpool Council DCP.  Wiley assessed land cost versus basement car park construction costs and advised to incorporate basement parking.  This advice was adopted and provided around 80% site cover
Advice on fire risk approach considering fire services and insulated panel options to reduce insurance and construction costs
Flexibility for adjoining tenancy area to become future production space.
Design
Complete design of the facility, incorporating pastry production areas, cool rooms, packing areas, loading docks, amenities and two storey office
Management of local authority approvals
Environmental design features including rainwater harvesting and noise control measures by careful positioning of equipment
Difficult design features that meant a deemed to satisfy solution to BCA was required.
Engineering
Review of process and advice on Good Manufacturing Practice
Coordination of services with clear scope of work for seamless transition.
Construction
Complete responsibility for all construction activities including procurement of all materials, supervision of subcontractors and scheduling of construction, site safety and cost planning and reporting
Incorporation of various construction methods (pre-cast, in-situ and post tensioned concrete, PIR panels) to provide fire ratings, impact resistance, hygiene, speed of construction and overcome shortage of formwork subcontractors.
RESULTS
The result is an efficient and modern fillo pastry manufacturing facility, providing a highly cost effective solution for maximum use of the Moorebank site.
The facility also makes provision for the growth and success of C & M Antoniou well into the future.