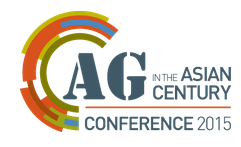 In the coming years the world is going to see over one billion people cross the gap from poverty into the middle-class and the majority of those making this transition will live in the developing nations of the Asian region.  This trend will manifest in huge opportunities in particular for the Australian agribusiness sector, for studies show that when people move from poverty into a middle class existence they spend up to 80% of their new disposable income on food and drink.
This burgeoning market will not only demand more quantities of food but they will also demand more diverse foods and beverages. Their diets will become more westernised containing varied proteins, vegetables, fruits and diary. Exotic and specialised foods as well as fine wine and champagne will become more popular. Asian consumers will also become increasingly concerned with issues of quality, safety, nutrition, ethics and sustainability.
The Australian brand is already known worldwide for its high standards of quality, nutrition, cleanliness and environmental sustainability. Combined with our diverse infrastructure and industry capability and our close proximity to the Asian market, Australian agribusinesses are well positioned to take advantage of this potential within our local region.
The Ag in the Asian Century Export and Innovation Conference held in Toowoomba in the famous Darling Downs agricultural region later this month will explore the potential business opportunities presented by this trend. Featuring world class speakers and delivering the latest research this year's conference will build on the succuss of 2014, taking the search for innovation and export opportunities in the Asian market to the next level.
Wiley is a proud Conference Partner of this fantastic event which has again secured a wide range of national and international speakers focusing on export and innovation opportunities in the Australian agribusiness sector. Wiley's own Michael Matthewson (Business Operations Manager – Toowoomba) will be part of a panel session at 9am on the 24th September discussing Transport and Logistics – Opportunities stem from better global supply chains with John Warda, Cheong Hwei, John Wagner and Peter Keyte.
Conference attendees will have the chance to connect with business leaders, government officials, academics and prominent industry representatives who are experts at identifying innovation and export opportunities and improving the effectiveness of the agribusiness supply chain. You can view the program here.
Join Wiley and other representatives of the Agribusiness sector for two intensive days of speakers, panel discussions and networking which will assist you to better understand how your business can take advantage of the opportunities presented by Asia's developing markets.
We look forward to seeing you at the event, come and have a chat at the Wiley stand.